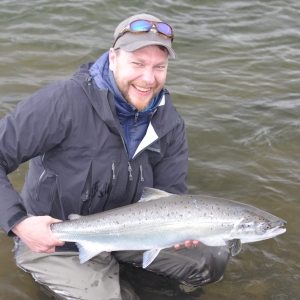 pukka [ pa-ka, Anglo-Indian ] : authentic, real, properly done
After having done coarse and carp fishing as well as some spinning I am fishing fly-only for more than ten years. I am fascinated by the variety of flyfishing. The casting, always new situations on the water and also the flyfishermen who seem to be driven by the same passion – flyfishing obviously is more than only catching fish.
A new part of this passion came into my life with a salmon fishing trip to Norway – flyfishing in foreign countries and their waters. I have been fishing with friends in unchartered rivers and lakes which aren't crowded ever since. They make the flyfisher's heart pounding with wild fish, pristine landscapes and interesting countries.
Besides, many countries gave us possibilities to get an insight into their cultures, which made these trips unforgettable. We weren't only fascinated by the fishing, but by the whole package composed of nature, wildlife, the fishing of course and last but not least the personalities who introduced our country to us.
From 2011 on I offer individuals and small groups to make similar experiences. Each of the pukka destinations has been fished either by myself or by good mates in order to be able to give you detailed advices. Your holiday time is precious and you should get the most out of it. The offer of pukka destinations will be extended step-by-step by carefully chosen destinations. Be invited to visit us regularly. My partners and myself plan the trip together with you and create it from several travel components. No matter if you would like to fish with a guide, combine trout- and salmon fishing, make a floattrip down a river: we offer numerous possibilities.
Furthermore, each year we offer some hosted trips which we accompany.
Your advantages of booking through pukka destinations:
Customised trips suited completely to your needs
Possible to offer all you need for a flyfishing trip – fishing, flights, insurances and even non-fishing activities – we take care of everything regarding your trip.
Similar prices as in the destinations, no upcharges.
Detailed advice and assistance in advance of the trip; during the trip 24h/day in case of trouble.
Detailed information package tailored for your trip
Don't hesitate to contact us with your specific wishes for your fishing trip – we are looking forward to your request.
Kind regards from Hamburg,
Carsten Dogs
Argentinien
Irland
Island
Kuba
Russland
Schweden
Spanien
USA – Florida
Venezuela